THE FARSIDES FAR-OUT AESTHETICS
The Farsides restaurant offers an eclectic fusion menu and décor complete with larger-than-life Hawaiian prints, pop-culture inspired details and murals that feature hip-hop giants. Dropping the ball on this bold vision when outfitting their staff was out of the question: it would have completely broken the spell and ruined the immersive experience they had so carefully crafted for their clientele. Together, we worked on styling everything from their wait staff's uniforms to their chef coats with all-over prints and eclectic details that matched their aesthetic.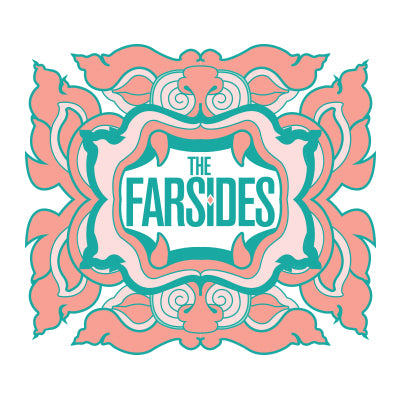 CUSTOM RESTAURANT UNIFORMS
To match The Farsides maximalist urban aesthetic, we customized staple restaurant uniform pieces fully. We re-designed our classic poly-bamboo button-down shirt for the wait staff to feature a stylish mao collar. Many restaurants underestimate how hard-working and visible the bussers are to the team. At Farsides, they are a pivotal part of the patron's experience, and their outfits reflect that. They wear bold Hawaiian prints that feature hip-hop references and meme-worthy messaging.
THE LOOK
THE TEE

A blank canvas you can use for self-expression or for cross-brand promotions. Connect with your clients by outfitting your staff in graphic t's that speak to your establishment's brand identity.

THE CHEFT COAT

These chef's coats are liquid repellent, stain-resistant and fully customizable. Perfect for open-kitchen restaurants that want to match their cooking staff's outfits in their brand concept.

THE APRON

This minimalist apron is made from an easy-to-wash poly-cotton mix and features small clips and leather accents, making it a fashionable and practical piece.

THE BUTTON DOWN

This ideal waitstaff shirt is comfortable and low-maintenance. It's made from a poly-bamboo blend which gives it naturally antimicrobial and thermoregulating properties and is easy to care for by being wrinkle resistant.
"In the past 17 years, Mirvik is the best supplier I have worked with. They brought us so many look options and provided great direction based on our restaurant's concept. If you're looking for results, you will 100% get it with Mirvik."
- Brian P., General Manager At the Farsides